HOME30 CONCEPT
Make no compromise on design and quality, your home deserves the best (floor)!
HOME30 CONCEPT
Make no compromise on design and quality, your home deserves the best (floor)!
HOME 30 is the ideal all-in-one flooring solution for your new interior decoration.
With 24 exclusive and authentic natural colors, HOME 30 brings the premium look your home deserves. All 24 designs are available in 2 different product structures to meet all functional expectations (dry back and rigid click acoustic LVT). 3 colorways are also available in a herringbone pattern to bring a fashionable atmosphere into your home.
HOME 30 CONCEPT is simply the best 2-in-1 LVT concept of the market!!
PRODUCTS BENEFITS
+ Best value for money.
+ 2 product structures suitable for residential and light commercial uses.
+ Resistant to scuff, scratches and stains. PUR Ecoprotec™ surface treatment for an easy cleaning.
+ Direct installation over most existing hard surface floors. Little or no subfloor preparation required (SOLIDE CLICK 30).
+ Suitable for underfloor heating.
+ Integrated acoustic pad for high sound reduction (21 dB – SOLIDE CLICK 30).
+ 100% waterproof.
+ Quick and easy to install thanks to the fold-down vertical click system (SOLIDE CLICK 30).
+ Very low VOC, phthalate free and 100% recyclable.
+ Can be removed without leaving any residue (SOLIDE CLICK 30).
SOLIDE CLICK 30 : Your new interior decoration in one click
SOLIDE CLICK 30 is the ideal solution for home renovation. The revolutionary rigid board used into the product provides an outstanding dimensional stability and a great resistance, allowing the product to be installed over an existing ceramic floor, without telegraphic effect. The integrated acoustic pad contributes to a high sound reduction for a better comfort. The design range is made of 24 authentic patterns to suit all styles.
Plank size: 177,8 x 1219,2 mm (12 planks/box = 2,60m²)
Herringbone plank size: 122 x 610 mm (20 planks/box [10 planks A + 10 planks B] = 1,49m²)
Tile size: 304,8 x 609,6 mm (12 tiles/box = 2,23m²)
Tile size: 457,2 x 914,4 mm (6 tiles/box = 2,51m²)
Thickness: 4,5 mm. Wear-layer: 0,30 mm
ECO30 : The best value for money
With its 18 wood, stone and concrete patterns, available in 4 formats and developed in a carefully chosen range of 24 colors, ECO30 is the best value for money. Glue-down product developed for domestic use, also suitable for commercial environments with light traffic.
Plank size: 185 x 1219,2 mm (21 planks/box = 4,74m²)
Herringbone plank size: 122 x 610 mm (36 planks/box = 2,68m²)
Tile size: 304,8 x 609,6 mm (24 tiles/box = 4,46m²)
Tile size: 457,2 x 914,4 mm (12 tiles/box = 5,02m²)
Thickness: 2,0 mm. Wear-layer: 0,30 mm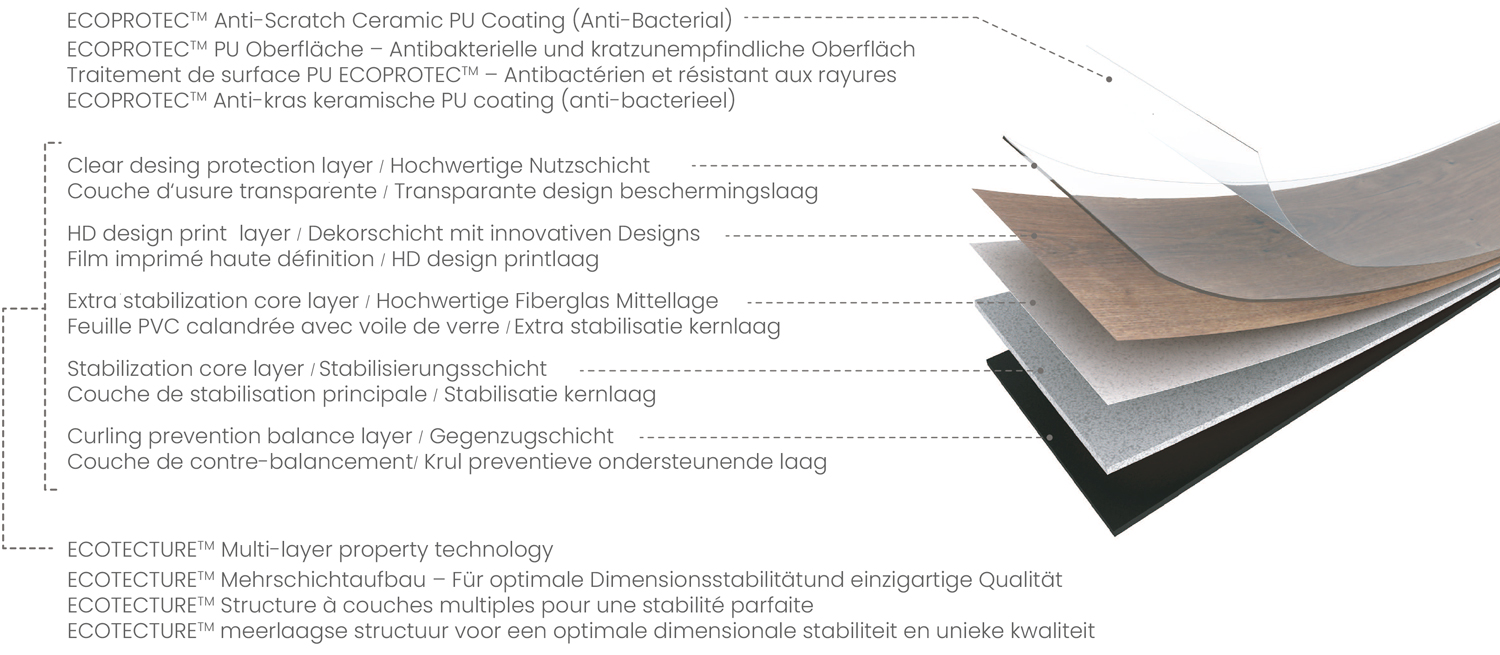 HOME30 CONCEPT : 24 designs
Installation demo Solide Click
Installation demo Solide Click Herringbone
Installation demo Solide Click